When are Field Trips? 
Field trips are available for school groups, October 17th through November 10th, Tuesdays – Fridays, 9 am – 2 pm. We are closed Mondays.
Homeschool families and groups are welcome to make a reservation on any day that we are open for field trips. We will no longer have designated Homeschool Days. 
Reservations required for all field trips! Please make reservations online to book your field trip. Call 361-287-2828 with any questions.
What's Included on the Field Trip?
The Maze – Students are presented with "passports" that quiz them as they wander the paths and help them along to the exit. Teachers are provided with maps of the corn maze.
Hay Ride – Take a tractor-drawn ride around the farm. You will tour the farm and dairy and learn about milking cows and the dairy business. 
Play Area – Our grounds include two slides, barrel train, hay jump, corn cannon, rat rollers, duck races, jumping pillow, ball zone, petting zoo and more!
ANTI-BULLYING WITH SPOOKLEY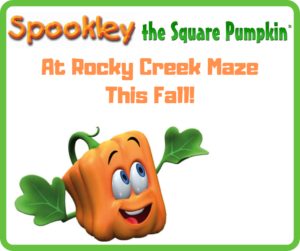 We've partnered with Spookley the Square Pumpkin to promote bullying prevention!  Students can walk a short trail through the corn to discover Spookley's story and answer anti-bullying discussion questions. Students will have an opportunity to take pictures with a giant inflatable Spookley and take the bullying prevention pledge.
How Much Does it Cost?
Public/Private School Pricing:
Students: $8.00
Teachers, teacher aides, and other school staff (1 teacher per homeschool family): FREE
Additional parent chaperones and siblings: $18 (may receive a $1 discount for non-perishable food donation to our local food pantry)
Tips for your Visit
Facilities
We have porta-potties (including handicap/family) and hand washing facilities. We also have three covered pavilions with picnic tables for seating. Additional, non-covered seating is available. All seating is first come, first serve basis. Feel free to bring a blanket for a picnic.
Food
We have a concession stand with sausage on a stick, nachos, hotdogs, frito pie, ice cream, snow cones, drinks, and candy. You may also have students pack a sack lunch. Please bring plenty of water. 
Clothing
Remember, this is an all outdoor activity on a farm. Dress accordingly. You'll want to make sure the kiddos have on good walking shoes and no flip flops or sandals. Sunscreen or hats are also recommended.
Weather
We'll stay open as long as the weather lets us. If it rains, we may have to close. It's best if you call us before leaving for your trip to check the weather at the maze.
Water
Please bring plenty of drinking water for your students. We don't have any water fountains on the premises; however, we do sell bottled water in the gift shop.
Teacher Resources
Links to Cornfield MAiZE™ resources, activities, games, coloring sheets, and more are available in our blog: Read The Rocky Ribbet! Visit now and come back often to see what's added!